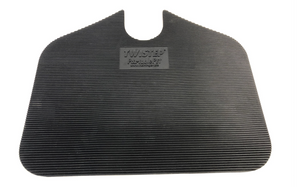 Rubber replacement mat for the Twistep.  This mat is the non-slip surface material for the Twistep. REQUIRES GLUE: We recommend a fast drying adhesive such as Gorilla Glue

Twiststep
Love the Twiststep, so easy for my Great Pyr to get in and out of my SUV and it is so rugged and durable. Easy to order and replace part as needed as well. I recently replaced the rubber mat and now it looks like new.
Still have not received the mat
I did not receive the mat. USPS indicated dwlivery was made. The company has not seemed to work very hard at resolving this issue. I am still without the replacement mat and out my money. I have been a long time customer and feel this is shoddy customer service.
Replaced the mat!
Replaced the mat, fit perfect. Used Gorilla glue. Easy Peazy.
Twister parts and service
We bought a twister step for more than a year. We absolutely love it! We have two Caucasian Shepards that use the twister step every day recently we bought a replacement math. This service was fantastic. Very quick response and fantastic product. Thank you very much.