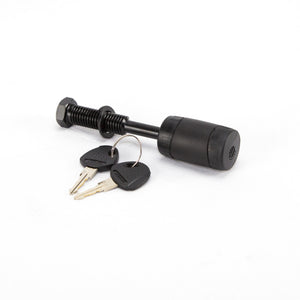 Twistep Hitch Lock - Item #6033
Hitch Lock for the SUV Twistep Model. 1/2" diameter Locking hitch pin with integrated anti-wobble/anti-rattle device. Fits both 1.25" and 2" receivers while using the Twistep. 2 keys included
I absolutely love my twiststep for my dogs. I've also used it for other purpose such washing my car and loading it. My problem after years of using it I can't remember how to remove the anti-wobble hitch lock. And I don't have the instructions any more. Help!
Twistep/ Anti-Wabble Hitch Lock
Great feature providing more stabile for my working canine. Thanks for such a great product!
It wobbles
This wobbles worse than when we put the 2" pin in that we had for another hitch. Only reason we kept it was because customer service insisted that it was the right one and the truck 2" anti wobble hitch lock was not for a suv. Because this locks, we are using it. Wish it fit right.
Works great
Does a great job of locking the hitch step to the truck. Also stopped the wobble. I highly recommend.
Pet step
Started to wobble after one year